NEWS
Science & Technology

Publish Date:2023-11-20
Units:Office of International Promotion and Outreach
Healthcare Innovation: AI Sleep Monitoring and iHARP (collaboration with ASUS), Developed by NYCU, Shine at the MEDICA 2023 in Germany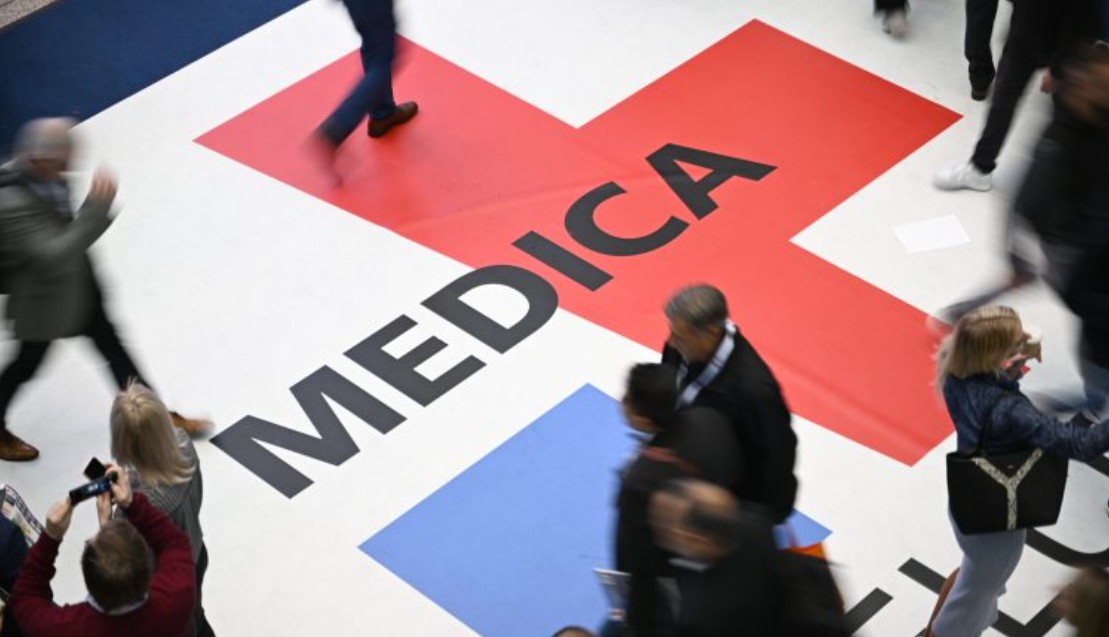 MEDICA in Düsseldorf 13-16 November 2023 (photo from Emergency Live)
By Haydn Chen,
Professor and Chief Strategy Officer
______
The MEDICA Medical Technology Exhibition in Germany, held from November 13th to 16th, 2023, marked a pivotal moment for Taiwan's biomedical and technology sectors, with over 5,300 units from 70+ countries participating. The notable presence of Taiwanese startups, smart hospital teams, ASUS, and Quanta Computer was evident.
NYCU's AI Home Sleep Monitor Takes Center Stage
National Yang Ming Chiao Tung University (NYCU) unveiled an 'Artificial Intelligence Home Sleep Monitoring Platform,' turning heads among global delegates.
Professor Albert Chih-Chieh Yang, Director of NYCU's Digital Medicine and Smart Healthcare Research Center, addressed the global prevalence of sleep issues. The AI-driven solution provides a convenient alternative to traditional sleep tests, eliminating the need for hospital visits and numerous wires, thus aiming to address real-life sleep problems.
To overcome the drawbacks of traditional overnight hospital testing, Dr. Yang's team developed a groundbreaking sleep monitoring platform. Using smart wearable devices and a proprietary smartphone app, the platform employs AI to analyze tens of thousands of sleep data entries. This aligns with the global emphasis on home care, providing stress-free at-home sleep monitoring.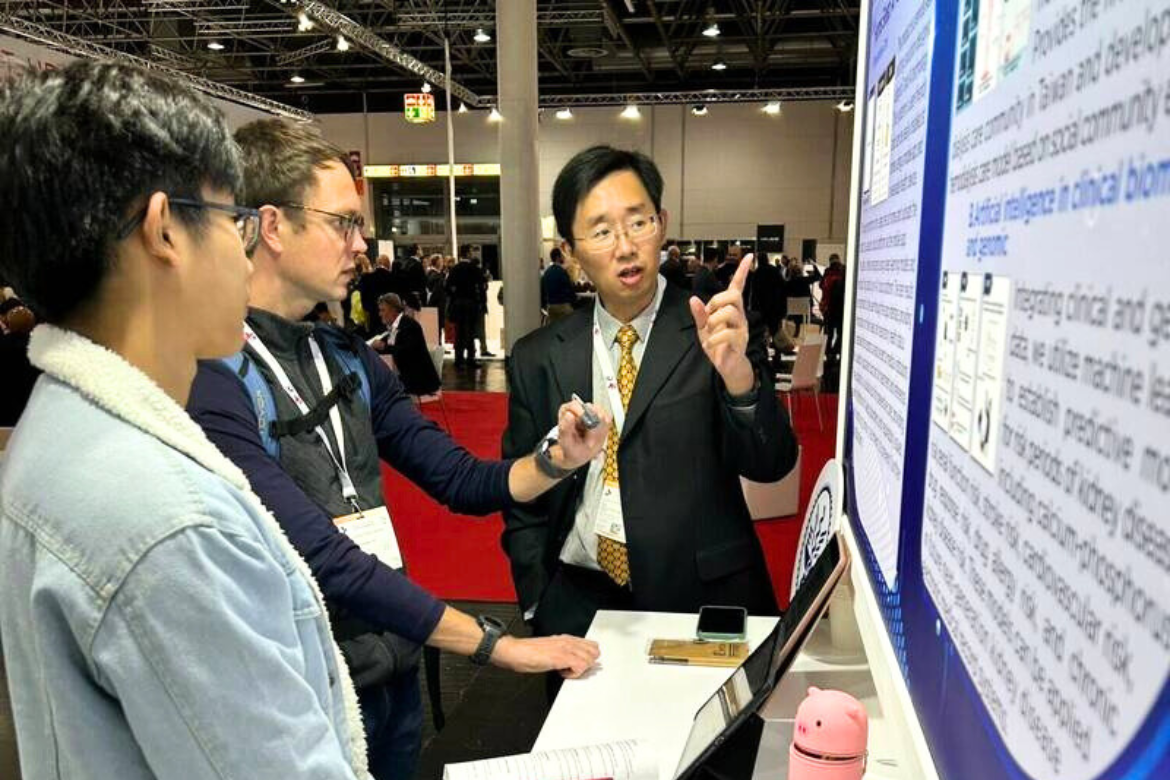 Prof. Albert Chih-Chieh Yang of NYCU introduces the 'Artificial Intelligence Home Sleep Monitoring Platform.' The innovation eliminates the need for hospital visits, drawing attention and inquiries from multiple countries.

iHARP Receives Praise: A Comprehensive Health Ecosystem
At the same MEDICA exhibition, Taipei City Guandu Hospital and ASUSTek Computer Inc. jointly presented the 'Healthy Aging and Rejuvenation Platform (iHARP),' an innovation with the potential for global impact. Developed by teams from NYCU and National Taiwan University (NTU), iHARP establishes a comprehensive ecosystem connecting medical institutions, lifestyles, homes, and communities, offering a range of diverse daily life services with a robust scientific foundation.

Visitors, including Niels Van Espen from Made Design & Innovation, praised iHARP's integration capabilities. The development of Zenbo Jr., a social robot utilizing ASUS Agility, and Dr. Chen Liang-Gung's presentation on 'Digital Empowerment' showcased iHARP's cross-domain technological ecosystem. The positive response resulted in invitations and recognition on the world stage, solidifying Taiwan's position as a leader in global health and longevity initiatives.
NYCU's Interdisciplinary Research Excellence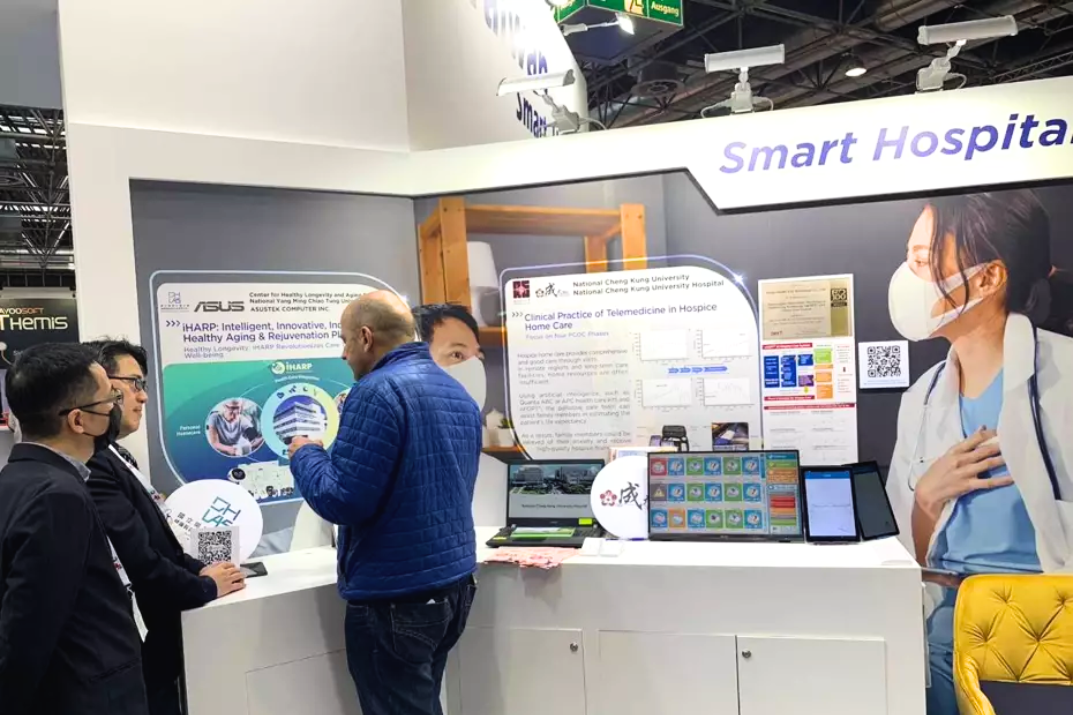 iHARP, the Health and Longevity Ecosystem, participated in the MEDICA Medical Technology Exhibition in Germany, attracting individuals from various countries for exchanges and discussions.(photo from ASUS)
The MEDICA exhibition in Dusseldorf, Germany, being the world's largest professional medical equipment expo, serves as a platform for showcasing Taiwan's interdisciplinary research capabilities in healthcare and information integration.
The NYCU team, participating alongside the National Science Council's 'Cross-Domain Development and Value-Added Application of Clinical Databases and AI' project team, demonstrated Taiwan's prowess in healthcare and information integration. Dr. Yang underscored the exhibition's role in encouraging academic research to connect with market and commercial development.
In conclusion, the success of iHARP and the AI Home Sleep Monitoring Platform at MEDICA 2023 not only demonstrates Taiwan's scientific prowess but also positions the country as a key player in shaping the future of global healthcare through innovative and interdisciplinary approaches.